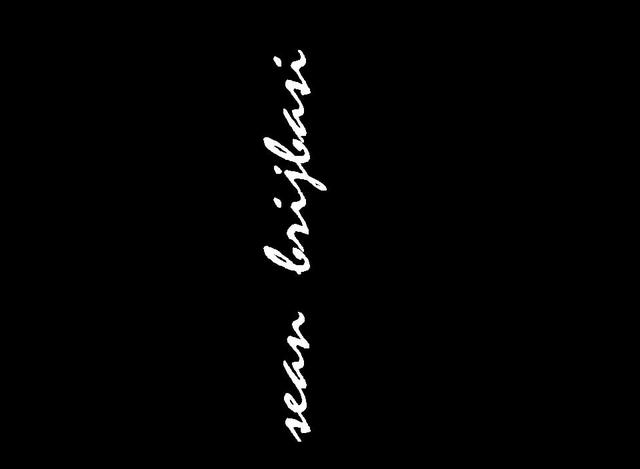 (©2009 entire contents copyright seanbrijbasi.com. all rights reserved.)

the dictionary of coincidences,

volume i (hi)

in this book:

my collection of large nurses

sequence disruptors 1-8

bend human willing

chromosome

darker circles of her body

industrial machinery

koto

nuevo-apophenia

submatter

zebra horse

and more...

"while you read this a small child will draw bold circles with a red crayon all over your functional cabinets"

"a love letter to women who ride bicycles"

ISBN:

978-0985213343

140 pp

the

dictio

nary of

coinci

dences

"by happenstance or bad fortune i was stung by a caterpillar (or some mutated bee) and was confined to lying-stance and swelling for some time during which i read the entirety of this dictionary in one, possibly two and a half swoops.  it's amazing how small a book can become so big.  but it occurred to me that what seems to inform Brijbasi's writing is a tension between form and matter--language as containment and language as wild-eyed irreverent party girl"

                          --Underground Books

"his ability to reach inside the mind of his creations is astounding.  it's as if he's unlearned the modern construct"

                          --Vicious Sewing Machine

from

the dictionary of coincidences, volume i (hi)

"Underneath the glass she looks the same but her hair is different. I remember the smell of her room and the window barely opened looking down onto the small yard and how the breeze lifted her drawings from the wall. When she returned I would hear her bicycle rattle against the tree, the front door open and close, and her hurried footsteps getting nearer to our room. I always thought to myself and sometimes whispered: 'be careful on the

stairs'. That's how much I loved her."

"At night she lay on a cold bed with me and

through a roofless hut watched mandarin leaves travel through the jet stream."

"We run with others in the cold, our winter hats coming loose from our heads, then falling off. We should find them before we go home. Our parents will be angry that we have lost them. We shouldn't run like this but there is no other way to fight this evil. We stay in motion. We move and spit. We roll on the ground and give up our skin to the cold

gravel—"

"I don't know what happens to the butterflies. I can't find any news about them. So I'm thinking about getting on my bicycle and maybe taking a journey somewhere to find them. Those things head for the sun or they go in the opposite direction."

"two finds close together."